Mitchell Koch Architects has completed numerous projects to provide people that have mobility challenges with the means to continue living in their own home comfortably and safely, with a degree of independence. Home modification can be a relatively inexpensive alternative to institutional care and can often eliminate or delay the need to move away from the family home.  
We take particular care to retain the warmth and familiar feeling of "home" when modifying living spaces. Please see our detailed case studies for the following three projects that address the physical obstacles presented by stairs and steps, bathrooms, kitchens, basements, exits, walkways, driveways and garages.

A home in Flushing Queens purchased with funds from a court settlement provided the means to bring a member of this family with life-long physical and mental disabilities home from a special care facility. MKA transformed the home to match and exceed the level of care provided at the facility. We designed and installed an access ramp to the backyard, air-conditioning for temperature control, and interior finishes that include lively wallpaper for visual stimulation, a bathroom with a roll in shower and a long changing table next to the sink in place of a toilet that will never be used. We also created a bed and bathroom suite adjacent to the client's bedroom for a live-in caregiver.

An Upper Westside co-op apartment has been re-fitted for a retired teacher with physical disabilities. A sink was removed from one of two bathrooms and installed in the bedroom (bathroom plumbing was left intact for future restoration). A Shower Buddy™ transfer unit was installed in the small bathroom where a roll-in shower was not allowed by the co-op due to flooding risks. Because there is no space to increase widths of doorways, swing clear hinges were installed to optimize ease of movement through tight hallways.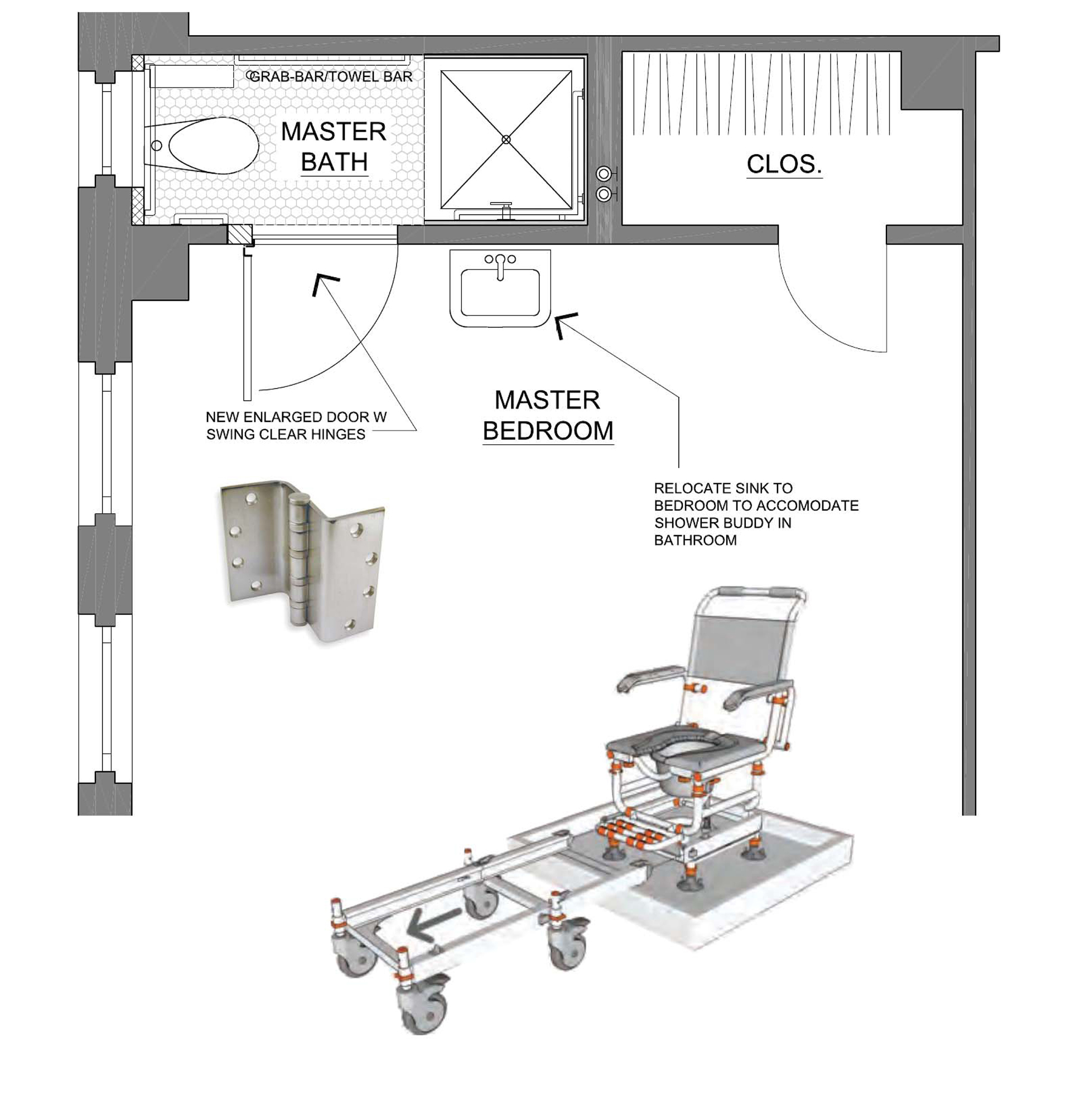 A home in Westchester County was modified to accommodate a wheelchair bound member of this family of five. The centerpiece of this project was an elevator to graciously manage movement in a wheel chair from front yard at grade up five steps to the family's first floor kitchen and living room and his bedroom and bath, to the basement level rec room, to the second floor bedrooms and bath. Doors and hallways were enlarged and shelves lowered throughout the home to provide the highest degree of independence in performing activities of daily living. In the bathroom, the strong ADA-compliant bars look like towel bars and the bathtub was replaced with a roll-in shower. A first floor deck gave access by ramp to a wheelchair accessible path leading to a basketball court with adjustable hoops. To protect against wheelchair bangs, doorways, trim and wainsocting were fabricated with indestructible polyester and plastic materials that matched the wood trim throughout the rest of the house.